Mourners came together today at the church in which Whitney Houston grew up, New Hope Baptist, in Newark, NJ. Celebrities, family, and friends packed the church where she sang at as a child, to remember her as a musician, and as a real person who at times struggled in life.
Kevin Costner, who produced and co-starred with Houston in her biggest movie, "The Bodyguard," spoke at the service. In a stirring tribute, and referencing a song originally sung by Dolly Parton but made famous by Houston, "I Will Always Love You", Costner said:
"Whitney, if you could hear me now, I would tell you, you weren't just good enough, you were great. You sang the whole damn song without a band. You made the picture what it was. A lot of leading men could have played my part. A lot of guys – a lot of guys could have filled that role, but you, Whitney, I truly believe were the only one that could have played Rachel Mirren at that time. You weren't just pretty, you were as beautiful as a woman could be. People didn't just like you Whitney, the loved you."

"You set the bar so high that professional singers, your own colleagues, they don't want to sing that little country song. What would be the point? Now, the only ones who sings your songs are young girls like you, who are dreaming of being you some day. And so to you, Bobbi Kristina and to all those young girls who are dreaming that dream, that maybe thinking, are they good enough? I think Whitney would tell you, 'Guard your bodies, guard the precious miracle of your own life, and then sing your hearts out,' knowing that there's a lady in heaven who is making God himself wonder how he created something so perfect. So off you go, Whitney, off you go. Escorted by an army of angels to your heavenly father, and when you sing before him, don't worry… you'll be good enough."
Other speakers at the service included: Clive Davis, who discovered Houston after seeing her singing in a nightclub; Gospel singer and fellow Grammy winner Bebe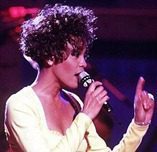 Winans; and Ray Watson, her real life bodyguard, who told attendees of her last day of life. Houston's cousin, Dionne Warwick, presided over the service.
Houston's godmother, Aretha Franklin, fell ill and was unable to perform at the service as planned. Others that did perform included Stevie Wonder, Alicia Keys, R. Kelly, and CeCe Winans.
At the end of the nearly four hour service, Houston's "I Will Always Love You" was played as mourners filed out of the church. The nearly four hour long service was streamed live over the internet for Houston's fans.