Five years from now, will we still have plastic credit and debit cards?
Something that has been become such common way to pay for items in stores over the last few decades looks like its in the crosshairs of new technology.
One of the programs that want to be on top of that new technology is Isis, which is backed by AT&T, T-Mobile and Verizon. Just last week Chase, Capital One and Barclaycard each confirmed that they would be supporting the new system. Isis set to be tested in Austin, Texas and Salt Lake City, Utah, sometime this summer. Visa, MasterCard, Discover and American Express have also become partners in Isis.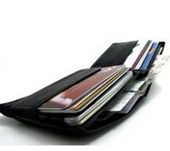 But Isis isn't the only new mobile payment program in the works. 25 retailers, including heavyweights Walmart and Target, are working on one as well. No launch or testing date is available for their program yet.
Google has a head start on these programs with its Google Wallet app, which is already usable at over 300,000 merchant locations – but it currently only works with the Sprint Nexus S 4G smartphone. Google recently announced it would be available on at least 10 more Sprint phones this year.
PayPal also has a jump on the competition, as they have a system with an app and an app free system currently being tested at select Home Depot and Office Max stores.
These mobile payment app systems use Near Field Communications (NFC) to transmit payment information from a smartphone to a payment terminal, either by tapping or waving the phone near the terminal's receiver.
The NFC systems have the potential to radical change the way people pay for items, and can also be used to trade in digital coupons, take advantage of special discounts or promo codes, and even track member reward systems and receipts – which can be automatically recorded by the smartphone rather than kept on paper.
While there's no telling what the final result may be, it appears there will be quite a scramble between companies who want to cash in on the lucrative mobile transactions market.