There's been lots of talk about the trouble "John Carter" is in. The movie has been panned by some before it's even made it to the theaters. According to sources, tracking numbers suggest that interest in the movie is low.
Disney is working on changing the early perceptions of the movie, which is set to premiere this Friday, March 9. One of the ways they're doing that is by releasing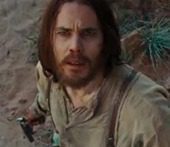 videos like the one below, a 10 minute prologue to the movie. However, predictions for box office sales its first opening weekend are on their way down, recently being revised from $30 million to $25 million.
But the film is getting more publicity of late, and may just do a 'Lorax' on the industry. Last weekend, Dr. Seuss' "The Lorax" stunned the movie industry by bringing in $70 million its first weekend. John Carter has not received a lot of critic ratings at Rotten Tomatoes at the time of this writing, 17. But those 17 have giving the file an average rating of 75%. And the 'want to see' rating from regular movie goers is 92%. Those are both higher numbers than "The Lorax" received prior to its release.
The prologue that Disney released is below: