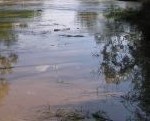 After days of pounding rain in the U.S. midwest, a 120 year old levee made of sand along the Wisconsin River has failed. Hundreds of people were asked to evacuate  homes and businesses that are in danger of flooding.
The Wisconsin Department of Natural Resources (DNR) has been monitoring the Columbia County levee all week. On Sunday night it became apparent that the levee was going to give way. It was confirmed on Monday morning that the levee had failed. Its location, just south of Portage, Wisconsin, leaves the weather service unsure of how far south the flood-waters may reach once the levee has completely failed.
Prior to the failure, Greg Matthews, spokesman for the DNR, told CNN that the levee is a "120-year-old relic."  He added that they were unsure of the "extent and scope" of the damage, if it fails. 
Areas where residents were in danger of homes becoming flooded were evacuated Sunday night and Monday morning. In some areas residents were urged to move to higher ground or evacuate, as roads would become impassable to emergency vehicles. Once roads were flooded, no one would be able to get in or out of those areas except by boat.
The Red Cross had opened a shelter in a local church for residents who were displaced by the flooding.
It is expected that the river in the Portage area will remain higher than its flood level of 17 feet at least through Wednesday. The city will remain in danger as long as the river is above the flood levels.
The Wisconsin River crested at 20.56 feet at midnight Monday. As of Monday morning it was still at record levels.
The expectation is that as these flooded rivers dump into the Mississippi River, it will rise and cause flooding in other locations, such as La Crosse and Winona, Wisconsin.