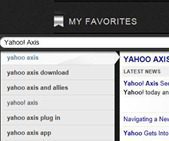 Yahoo! launched what they are calling a 'search browser' this evening. The company says it offers "a faster, smarter search with instant answers and visual search previews."
The new program has a lot to live up to. In a video introduction (posted below), the production manager for Axis says it "redefines what it means to explore the web" and that the program will provide "instant answers" to many search queries.
"Our search strategy is predicated on two core beliefs—one, that people want answers, not links and two, that consumer-facing search is ripe for innovative disruption," said Shashi Seth, senior vice president, Connections, Yahoo! Inc. "With Axis, we have re-defined and re-architected the search and browse experience from the ground up."
So just what does Axis do?
Well, we are trying it out right now… hmmm, though Yahoo! says Axis is compatible with "all versions of Chrome," when we try to download it through the Chrome browser on our laptop here, we simply get a blank "null" page and no download.
Let's try with Internet Explorer…. success!
Leaving a full review for later, we'll take a quick look at the basics. Yahoo! has installed a search bar on the bottom of our Internet Explorer browser. Clicking on the bar, the program opens and takes up about half the browser screen. When a term is typed into the search box, a list of sites with a sample of the content from each page appears horizontally across the bottom. It appears the be the 'trending topics' results mentioned in the video (below). This does not include a thumbnail image of the page, just the title and sample content. Apparently what was typed in, "Yahoo Axis," is to new to have thumbnails.
So a more generic term is entered – 'long distance.' This does provide a list of webpages dealing with 'long distance' and does include an image of each page. The list can be scrolled through horizontally.
Axis also has a button on the bar for bookmarking a page, and another for accessing a Yahoo! based homepage.
This is just a quick look. According to Yahoo!, the program does more. For example, when a user logs in, whatever searches they have going on in Axis can be transferred to another device logged in to the same account. We could not trigger the 'instant answer' responses. Perhaps one much be logged in for that to work.
We will continue working with Yahoo! Axis on this laptop and try it on some mobile devices. A complete review will be here on CP later.
A link to the Yahoo! Axis page is here. The download is free. If you try it, come back and tell us what you think of it in the comment section below.