eBay and the Council of Fashion Designers of America (CFDA) is once again bringing attention to counterfeit fashion with their "You Can't Fake Fashion" campaign.
As part of the campaign, one-of-a-kind tote bags will be available from 75 well known designers. Starting tomorrow, February 9, the tote bags will be available for previewing at Mercedes-Benz Fashion Week, which is held at the Lincoln Center for the Performing Arts in New York. The totes will go on sale on eBay March 20, at fixed, 'Buy It Now' pricing. The money raised through the sale of the tote bags goes to the CFDA.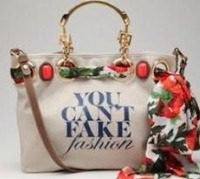 eBay says they sale a designer handbag through their auction service every 16 seconds, and that they are committed to combatting the sale of counterfeits. "Counterfeits not only are illegal, they also damage brand owners, frustrate shoppers and undermine consumer confidence. eBay invests substantial resources to help provide millions of consumers a trusted, confident marketplace experience; this campaign is another example of our commitment to being a leading industry voice in the fight against counterfeits," said Alan Marks, eBay's Senior Vice President of Global Communications, in a statement about the campaign.
The one-of-a-kind bags will be priced at $200, a $50 increase from last July's campaign, when they were $150. At $150, they sold out in minutes, and are expected to do the same this time. The price for the not so one-of-a-kind standard "You Can't Fake Fashion" tote bags has gone up as well, from $35 before to $45 now.