Yesterday, YouTube announced it was adding over 600 more titles to their rental section. Some of the new titles include West Side Story, Moonstruck, Robocop, the Terminator, Rain Man, and Rocky.
The new film rentals come thanks to an agreement recently inked between Google and Metro-Goldwyn-Mayer (MGM). Not only will the new rental content be available through YouTube, but it will also be accessible through Google Play.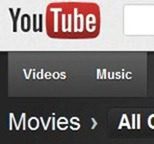 According to a post on YouTube's blog, additional MGM films will be in the weeks ahead.
YouTube, which is owned by Google, and the Google Play store, have been aggressively adding to their pay-for based content. Not long ago YouTube announced a partnership with Paramount which added about 500 new movies to its rental offerings. Along with a selection of films from Paramount and MGM, YouTube also has content available from Universal, Sony Pictures, Warner Bros. and Disney.