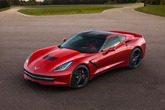 The 2014 Corvette Stingray debuted Sunday to an enthusiastic array of fans.
It also has an enthusiastic set of naysayers.
The Stingray name has been mothballed for 37 years. Since then, there has only been the Corvette.
There have been some changes to the new Stingray. like the 6.2 liter, 450-horsepower V-8 engine that has five driving modes including an "eco" mode which shuts off four of the cylinders. This is an important distinction since new federal regulations require the sports car to get higher gas mileage than before, and this allows the Stingray to get at least 26mpg.
The controversy surrounding the 2014 Corvette Stingray's debut has to do with changes the fans wish had or hadn't been made.
Of course, there are also purists who believe there shouldn't be a Stingray at all after the name was retired. Enthusiasts who approve of the new Stingray have lauded the looks and performance of the new design, including the Lamborghini inspired optional track seats.
It appears the rear of the car has gotten the most criticism, with many calling it a Camaro-like abomination.
Of course, there will always be detractors of a new car design, especially one with an iconic heritage like the Corvette Stingray. GM design chief Ed Wellburn vowed not to use the Stingray name if the new design wasn't worthy of it. He must have felt it was, even if not all fans agree.
The new 2014 Corvette Stingray may have debuted to a little controversy, but if people are talking about the car… and some of them positively, isn't that what PR is all about?
What do you think about the new 2014 Corvette Stingray? Let me know in the comments below!