Amazon is currently offering up to $500 in credit for iPad 2's.
Last week we reported that eBay was offering up to $475 for iPad 2's through their Instant Sale program. The price continues to be accurate as of publication time. eBay is also offering a limited time program where sellers can lock in a price and the iPad does not have to be shipped to them until March 20. This, they say, so that sellers can get their new iPad before having to send in their old one (the new iPad will be in stores March 16, though early pre-orders are sold out and the same could happen at stores).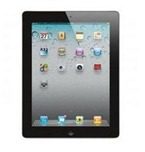 Amazon's program works a bit differently than eBay's. Rather than sending the seller funds, at Amazon the seller receives credit at Amazon for the purchase of other items.
On the high end, Amazon currently lists the trade-in value for the iPad 2, 64 GB 3G, AT&T compatible version at $500. The same model configured for Verizon has the trade-in value of $485.
On the low end, the trade-in value for the 16 GB Wi-Fi version is $320. For the 32 GB version the trade-in value is $375, and for the 64 GB, $445.
During the trade-in process, sellers are asked to judge whether the unit is in 'like new,' 'good,' or 'acceptable,' condition (eBay simply asks if it's working or not).
The trade-in values listed above are for the 'like new' condition. Prices drop as the condition degrades. A full listing of the different versions and offers from Amazon is here.
Amazon is also accepting trade-ins of first generation iPads. The trade-in value for a first gen, 16 GB, Wi-Fi model is $245 (in like new condition).
Would you, or have you, traded your iPad in through eBay or Amazon? Leave a comment with your experience below!