Just two days ago here at CP, we pointed out that Barnes & Noble had one big advantage over Amazon in selling their new e-reader tablet.
While Amazon was limited to showing off their new Kindle Fire to potential buyers over the internet, Barnes & Noble could put their new Nook Tablet into a potential buyer's hands. Someone considering the purchase of a Kindle Fire would have to look at pictures and imagine what one would feel like. Someone considering a Nook Tablet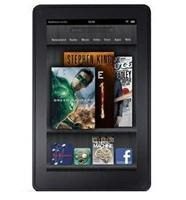 could go to B&N and pick one up, try it out, and watch the salesperson do a demo, be trained on how it works, and have questions answered. B&N even offered free in-store support.
Apparently that thought occurred to Amazon as well… and they're not going to cede the advantage to B&N.
Today Amazon announced that the entire Kindle family of e-readers will be available in over 16,000 brick-and-mortar stores across the US. Rather than opt for an exclusive deal through any one retail chain, the Amazon Kindles will be mass-marketed. They'll be available in Best Buys, Targets, Walmarts, Staples, Sam's Clubs, RadioShacks, Office Depots, and other retailers, according the Amazon's announcement.
The pricing for the entire Kindle family will remain the same as buying directly from Amazon. Amazon also says that the new Kindle Fire will be available in stores on the same day it officially goes live on Amazon.com, November 15.
Barnes & Noble has just over 700 stores in the US, and operates 600 some college bookstores. They'll have those outlets, plus their website, to sell the Nook Tablet through.
Amazon has gone from having their website as their only outlet, to having their site plus 16,000 local stores.
Advantage Amazon.
---
Have A Question? Ask Jessica!