The new BlackBerry Bold 9900 cell phone will start shipping on August 31st, but can be pre-ordered today at T-Mobile.
The BlackBerry Bold 9900 features the new BlackBerry 7 operating system with a 1.2GHz processor – the fastest T-Mobile phone available on America's Largest 4G Network, now available in more than 190 markets and capable of reaching more than 200 million people nationwide. The 4G capable BlackBerry Bold 9900 is the thinnest BlackBerry smartphone ever at 10.5mm thin. It is also the first BlackBerry Bold to offer a high-performance keyboard and brilliant touch display. It features Liquid Graphics technology, 24-bit high resolution graphics and advanced sensors.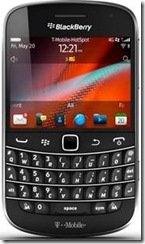 The new BlackBerry 7 operating system introduces a next-generation BlackBerry browser with a significantly faster, more fluid web browsing experience. The browser has optimized zooming and panning for smoother web navigation and HTML5 optimized performance for gaming and video experiences unlike any ever before on a Blackberry smartphone. It includes BBM (BlackBerry Messenger), an updated Social Feeds (2.0) app, and the new Facebook for BlackBerry (2.0) app with Facebook chat and BBM integration.
The BlackBerry Bold comes preloaded with T-Mobile's new MobileLife Family Organizer to make managing families' busy schedules easier with centralized calendars, shopping lists, to-do lists and family journals allowing family members to update each other on the go. Calendar reminders can be sent via text or email for upcoming appointments.
Available for exclusive pre-ordering for T-mobile business customers, the BlackBerry Bold 9900 is expected to be available at T-Mobile retail stores and select dealers nationwide starting August 31st.