Research In Motion (RIM), the company behind the well known BlackBerry product line, has officially introduced their new keyboard accessory for the BlackBerry PlayBook.
We first reported on the new keyboard yesterday, when word of it began popping up online prior to the company's announcement.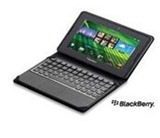 The new keyboard, and the case that join the keyboard and tablet, make it into a little laptop looking device. The keyboard connects to the tablet by BlueTooth, and includes a touchpad. Along with the tablet's own touchscreen and the keyboard, a user can also control the tablet through a bridge with a BlackBerry smartphone.
RIM has struggled with slow sales of the tablet. Late last year they dropped the price by $300, and last month (after a change of CEOs), they updated the tablet to a new OS, giving it much stronger features. The new keyboard may provide a boost to RIM's ability to attract business users to the tablet.
The keyboard will cost $119, according to RIM, though, as we mentioned yesterday, TheSource.ca is taking preorders for it for $99. The keyboard is expected to begin shipping on March 23.
Video from RIM follows:
http://youtu.be/P76xH0tSOg0