The HP TouchPad sales frenzy is stepping up a bit with new sellers hitting eBay with their wares at bids well under $200. At the time of this article, there were 29 of the 16GB WebOS tablets at bids between $101 and $150. In the next price bracket, there were over 350 16GB TouchPads at bids starting at $150 and going up to $200. The number for sale between $200 and $250 was around 200. There were a plenty more for sale at prices from $250 to over $500. Altogether, there are almost 600 listed below $250.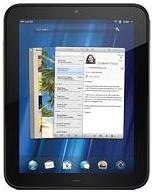 The 32GB HP TouchPad model were also up for auction on eBay, although there aren't quite as many of those available. There is actually one with a bid under $100; but don't expect that to last long. There are four more in the next price bracket between $100 and $150. Climbing up into the next bracket, there are still more available with just under 200 listed between $150 and $200. There are a little over 300 available at the $200 to $250 range. Of course, there are plenty more still available over the $250 mark. Altogether, there are almost 500 listed below $250.
In a little bit smaller quantities, there are HP TouchPad accessories available on eBay as well.
---
Have A Question? Ask Jessica!