Leonardo DiCaprio, star of megahits Inception and Titanic, has joined his ecologically aware neighbors in Los Angeles driving a top of the line, eco-friendly sports car. What has been touted as the most anticipated hybrid car ever, the 2012 Fisker Karma is one of the most popular eco-friendly cars on the market – Colin Powell and Al Gore are next in line to get one.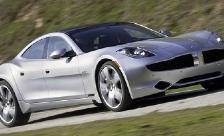 The plug-in hybrid sports sedan first made its appearance at the 2008 North American International Auto Show. Initially scheduled to make its first deliveries in late 2009, the auto maker began making deliveries in late July 2011. The base price is $95,900, add just under $14k worth of upgrades to get to the top model price of $109,850.
The Fisker Karma is a series hybrid, sporting dual electric motors totaling 403hp. The 2.2L gas engine powers a 175kW generator to charge the 22kWh lithium ion battery. The dual electric motors are the only things that power the wheels. A standard solar paneled roof can generate up to half a kilowatt-hour per day, adding up to 4 to 5 miles of range per week. Fisker Automotive estimates a single tank refuel per year if the driver drives less than 50 miles per day. The Karma can go an estimated 100 miles per gallon with a range of 300 miles. It has a top speed of 125 mph and goes from 0 to 60mph in 5.8 seconds.
The eco-friendly interior sports wood trim salvaged from forest fire trees and lake bottom timbers. It also features full cow hide leather, mars and scratches included; it is equally functional, but more efficient.