The all new SpaceBook from gScreen is a fully functional laptop that comes equipped with two 17-inch wide HD LED backlit displays. The built-in monitors slide out from the center and create a panorama display on two monitors sporting Full HD resolution of 1920 x 1080 pixels each.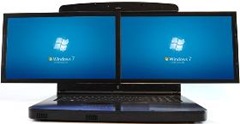 The laptops come in two configurations: the first is the SpaceBook 17 i5 2.66GHz  with Windows 7 Home Edition, Intel i5 2.66GHz 560 dual processor, and 4GB memory. The second higher end model is the SpaceBook 17 i7 1.73GHz with Windows 7 Professional, Intel i7 1.73GHz 740 Quad processor, and 8GB memory. Both models come equipped with the Dual-17-inch HD 1920 x 1080 LED screens, Nvidia GeForce GTS 250 1GB 1333MHZ video card, 500GB 7200 rpm Hard Drive and a Super-multi drive that can use DVD+/-rw and DVD-RAM. These premium hard drives come encased in a magnesium alloy lid-frame.
All this hardware in a rugged case isn't light – it pushes the laptop's weight up to ten pounds. However, it does make it so you don't have to lug a second monitor around on it's own.
Pre-orders are being accepted now with a discount of $500 off the MSRP, plus free shipping. The SpaceBook 17 i5 2.66GHz is now at sale price of $1899 – a reserve down payment of $695 is required. The SpaceBook 17 i7 1.73GHz is at a sale price of $2099 with a reserve down payment of $795. The laptops can be reserved at gscreenlaptop.com.