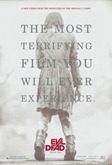 The horror remake Evil Dead scared up big profits this weekend to the tune of almost $26 million.
That means the remake made more in one weekend than all the three films from the first franchise did in their initial release. It also made back its budget and then some. A sequel to "the most terrifying film you will ever experience" can't be too far away.
But what do the fans say about the remake?
The reviews are in from many and the general consensus seems to be it is a great homage to the original and a veritable blood bath in the very literal sense.
There's a lot of humor and gore in equal amounts. Fans of the original three The Evil Dead movies will recognize the humor and be amazed by the amount of horrible things that happen to the inhabitants of the doomed cabin.
Did the remake ratchet up its big profits by thinking out of the Evil Dead horror box?
Not so much. The screenplay and story remain fairly true to the original. some elements moved around a bit, but it's still the classic cabin-in-the-woods story. Jane Levy from television's Suburgatory leads a "non-star" cast as they all take turns getting possessed and painfully injured by the evil released (against all common sense) in the "gorified" cabin basement.
The remake has the guiding influence of Sam Raimi (original director and producer) and Bruce Campbell (Ash from the original trilogy) as producers. They promised it would be a fun-filled blood fest and it is.
This movie is not for the squeamish; the special tortuous, gory effects are astounding considering how there are very few computer-generated effects at all in the film. It earns its R rating.
Evil Dead still has plenty of time to generate more remake profits. The success would seem to demand a sequel. But without Ash, how will they make the next one?
Will you be catching the new Evil Dead remake in theaters?
Let me know how you liked it in the comments below!