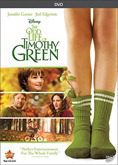 The family friendly movie, The Odd Life of Timothy Green, was released on DVD and Blu-Ray December 4th. It is available now at most major retailers.
Amazon has the DVD listed at $16.99 and the Blu-Ray at $22.99. Walmart is slightly more expensive, listing the DVD at $25.49 and the Blu-Ray at $33.99. Best Buy has the DVD at $17.99, but matches Amazon's price on the Blu-Ray at $22.99.
The Odd Life of Timothy Green follows the story of a couple trying to have children, but are told it is not physically possible for them due to medical reasons. They put their hopes and dreams for what they would want in a child on little strips of paper into a box and bury it in the backyard in an attempt to move on with their lives and put the absence of a child in their family behind them.
A magical birth takes place from the garden and Timothy Green appears, calling the couple Mom and Dad. He also has a few special items in addition to being an elementary school age child. He has leafy appendages growing from his ankles and has other abilities which are discovered and expanded on.
The Odd Life of Timothy Green is a kid friendly, PG rated movie from Disney that is targeted to family audiences.
How would you react to a child appearing magically in your garden? Let us know in the comments below!