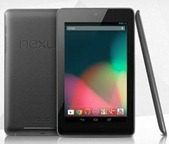 Google revealed the Nexus 7 tablet yesterday at Google I/O 2012, and announced the price, a vague release date, preordering information and more.
Google's new tablet will start at $199. That puts it in direct competition with Amazon's Kindle Fire. There are rumors that Amazon will have a next-gen Fire out next month. Looks like the two new tablets may duke it out over the summer months.
For a 7 inch, $199, tablet, the Nexus 7 comes with a pretty strong set of specs. It won't outcompete the larger and more expensive iPad, but it does stand up well in comparison to the current Kindle Fire.
The Nexus 7, manufactured by Asus, has a Nvidia Tegra 3 quad-core processor (it's the only 7 inch tablet with a quad-core processor) and 1 GB of RAM. The $199 version has 8GB of onboard storage. For another $50, shoppers will be able to buy an upgraded version with 16GB of storage. For graphics processing, the Nexus 7 has a 12-core Nvidia GPU. The screen has 1280-by-800 pixel resolution. The tablet includes a 1.2 megapixel front facing camera. It connects via Wi-Fi and features mini HDMI, Micro USB, and Ethernet ports.
Along with the tablet, Google also announced the release of Android 4.1, and the Nexus 7 will come with the new OS on board. What's new with 4.1, aka: Jelly Bean? Mostly it's an update to the Android 4.0 user interface, but also includes a variety of tweaks and updates. While we haven't experienced it yet, we've been told the voice recognition and a search are big improvements over what was available in 4.0.
Google is taking preorders for the device on the Google Play store. The shipping/release date is a somewhat vague "2 – 3 weeks," according to Google. Guess we can safely say sometime toward the middle of July,
Google also states that, for a limited time, the Nexus 7 comes with a $25 credit to the Google Play store and free content, such as Transformers: Dark of the Moon.