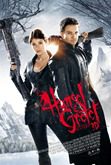 Hansel and Gretel: Witch Hunters – is not a movie for children.
Though it may be based on a fairy tale, this film has a well deserved R rating. It contains strong fantasy, horror, violence and gore, brief sexuality/nudity and strong language.
That said, is Hansel and Gretel: Witch Hunters any good?
No.
The movie limps through on gore and violence (taking particular advantage of the 3D aspect of filming). It doesn't deliver on plot. The vulgarity, adult themes and nudity only take the movie so far. And while some of the humor hits a home run, it's mostly off the mark.
Hansel and Gretel: Witch Hunters hasn't been reviewed on Rotten Tomatoes yet. Perhaps others will find some redeeming value to it, but we didn't.
The movie follows Hansel (played by Oscar nominated Jeremy Renner) and Gretel (played by Gemma Arterton)  after they've grown up, many years after they faced off against a witch as children.
The event scarred them for life and propelled them to become witch hunters, eradicating evil wherever they go. The story picks up with something evil from their past hunting them.
Horror/action-adventure movies often do well in theaters. The Underworld and Resident Evil franchise movies were all hits when taking worldwide gross into account.
But not all of them do well, as evidenced by Priest, which only barely made back it's original production budget. Abraham Lincoln: Vampire Hunter did OK, but not enough to get a studio behind a sequel. Van Helsing pulled almost double it's production cost in worldwide gross. The Brothers Grimm was another that barely made it over its production budget.
We'll see how this one does, but we don't expect much.
Hansel and Gretel: Witch Hunters will hit US theaters Friday, January 25th.
Do you think the star power of Jeremy Renner and Gemma Arterton will help this film become a hit? Or will it be a flop? Let me know in the comments below!