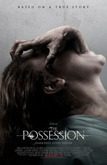 The horror movie The Possession is out on DVD and Blu-Ray today.
The movie wasn't a critical hit, but did very well in theaters, pulling in a little over $75 million on a budget of only $14 million.
The movie stars popular actors Jeffrey Dean Morgan and Kyra Sedgwick as divorced parents dealing with a very mean spirit called a 'dibbuk' that has possessed and wants to consume their daughter, Em, played by Natasha Calis.
The movie also features reggae and alternative rock artist Matisyahu in his first and only film role to date.
As horror movies go, The Possession, released on DVD and Blu-Ray January 14th, has some original moments but relies heavily on standard scary movie fare. The movie is rated PG-13 for mature thematic material, violence and disturbing scenes.
The movie scored a very low 39% on Rotten Tomatoes and a meager 45% on compiled rating site Metascore. Because it doesn't have any gore, it may appeal to those who just want a scare but don't want to be grossed out.
The Possession is now available in the horror section of major retailers Amazon and Best Buy – the DVD is $14,99 and the Blu-Ray is $19.99.
Have you seen The Possession? Let me know what you thought of the film in the comments below!