Only HP still lists the 16GB HP TouchPad for $99, but they are out of inventory and have been for days. Most brick and mortar are also completely out of inventory. But Amazon appears to have a plentiful supply of the discontinued WebOS tablets at somewhat discounted prices still available.
Amazon's inventory increased dramatically in the last couple of days. Amazon has both new and used models available.
Searching for TouchPad on Amazon's site will bring up 162 of the 16GB versions of the HP TouchPad, starting at the price of $219.99. The listings are split between two titles – HP TouchPad Wi-Fi 16 GB 9.7-Inch Tablet Computer and 9.7" 16GB WiFi 1.2GHz; but these are the 16GB HP TouchPad. There is also a 32GB model listed (titled HP TouchPad Wi-Fi 32 GB 9.7-Inch Tablet Computer) – there are over 100 of the larger capacity models available, starting at a price of $264.42.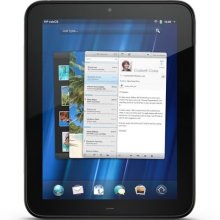 Other online sites appear to be down to a trickle of available inventory; there was only one 32GB model available on eBay and no 16GB models – days ago they were available, but not anymore.
Amazon works with multiple sellers and there are wide price variations between them. Some charge $10 or more for shipping, while others charge nothing.
Amazon also has charging docks, flip book cases, and various other accessories available for the HP TouchPad. These items appear to be nearly sold out at other major retailers.