Along with the launch of the new iPhone 4S, unlimited data plans for an iPhone will now be available in the US!
Previous versions of the iPhone were only sold with AT&T service, which, like most other carriers, has a tiered data plan. But the new iPhone 4S will be available from Sprint, as well as AT&T and Verizon. Sprint is the only one that offers an unlimited data plan.
Sprint will be offering several plans for the newest smartphone from Apple:
$69.99 per month for unlimited data plus 450 talk minutes
$99.99 per month for Simply Everything unlimited calling and data
How do the other carriers stack up? The current plans are as follows:
Verizon:
Basic Data Plan (add overage of $10 per 1GB):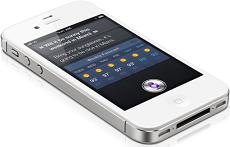 $30 per month for 2GB of data
$50 per month for 5GB of data
$80 per month for 10GB of data
For Verizon's mobile hotspot included with the data plan (add overage of $10 per 1GB):
$50 per month for 4GB of data
$70 per month for 7GB of data
$100 per month for 12GB of data
AT&T:
The original iPhone carrier has even more restrictive plans:
$15 per month for 200MB of data
$25 per month for 2GB of data
$45 per month for 4GB of data (with tethering)
AT&T does include AT&T Wi-Fi – of which there are over 26,000 nationwide. But there are a lot of free public Wi-Fi hotspots available all over, so it's pretty much a level playing field there.
What does all this amazing complexity mean? 2GB to 4GB is normally plenty of data bandwidth for most people…. unless constantly streaming video to the iPhone 4S  from YouTube or some major video streaming provider. Scratch that – if the iPhone owner is a typical adult, 4GB is plenty – kids can rack up that data unbelievably fast – a plan that includes overage charges could mean some serious pain at the end of the month.
Consumer advocates often suggest that a reasonable plan of action is trying out one of the cheaper plans first, measure normal usage, then determine if it's a good idea to up the data plan. Some carriers allow plan changes on the fly. The advantage of using Sprint's unlimited data plan is that the consumer does not need to worry about the amount of data used.