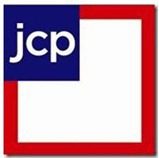 JCPenney has been struggling over the last few years. There were fewer shoppers at their stores. Sales were down. Their image? Stale.
So in January of this year the company introduced major changes to the way they related with shoppers.  A new logo was created. Stores were redesigned and inventory re-priced. Ellen DeGeneres was brought in as a new spokeswoman.
JCPenney's 'hook' changed from offering coupons, discounts, and specials on high priced products to bring shoppers into the store, to offering 'everyday low prices.' Yep, JCPenney was taking on the standard Walmart model of doing business, simplifying its offers and pricing scheme. In fact, they simplified prices so much that they dropped the pennies from their prices. Now everything is just rounded off to the nearest dollar.
Their commercial announcing the changes featured shoppers screaming 'No!' after finding a coupon or a markdown on an item they had just purchased for full price. JCPenney's angle was that that would no longer happen.
Now it's beginning to look like the shoppers are screaming 'No!' to the changes that JCPenney has implemented. (On a side note, my wife felt the same way. After visiting our local JCPenney days after the switch, she came home saying she didn't like it.)
Investors.com reported today that JCPenney is shedding both customers and investors. The company reported that it had fewer shoppers during the first quarter of 2012, and an almost 19% decline in sales at stores that have been open over year. At the close of the stock market today, JCPenney shares pretty much matched that decline, down 19%.
Ron Johnson, the CEO of JCPenney, said in a statement that "Sales and profitability have been tougher than anticipated during the first 13 weeks, but the transformation is ahead of schedule.  Customers love the new jcp they discover in our stores… While we have work to do to educate the customer on our pricing strategy and to drive more traffic to our stores, we are confident in our vision to become America's favorite store."
What do you think of the changes that JCPenney has made? Leave your comment below.