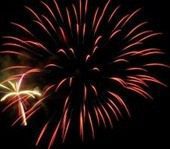 Last year July 4th fell conveniently on a Monday. The year before, on a Sunday, and three years ago, on a Saturday. For the most part, the July 4th sales during those years ran through the long holiday weekends.
Ah, but here comes 2012, with July 4th falling smack dab in the middle of the work week.
The mid-week holiday has caused some confusion when it comes to which weekend goes with it. According to CBS News, with July 4th falling mid-week, and the economy continuing to be weak, many Americans are foregoing their traditional July 4th vacations.
Most stores appear to be skipping weekend sales altogether and focusing their attention on today and Wednesday, and most of the sales don't look like anything real special this year.
Sears is having a fairly routine sale. As is typical of their holiday sales, they are offering 30% off Kenmore appliances, 5% to 15% off a variety of items in various departments. Of note is a 60% off sale on swimwear. The sale is going on today and tomorrow. It officially ends Thursday, but really early in the morning on Thursday… 7am Central Time, according to their site.
Sears' sister store, Kmart, is also having its sale just today and Wednesday. It's also a pretty typical holiday sale, with 5% to 10% off a variety of items. They do have up to 40% off on pools and accessories. And HDTVs are on sale, with 5 different 32 inch models available for $199 each.
JCPenney came out with a bit of a surprise this week. According to the New York Post, the store, which previously swore off specials and coupons, sent an email to shoppers (we didn't get one!) with "with thousands of surprise discounts." The change in attitude may be related to the reluctance of shoppers to embrace the new strategy.
Target is pushing patio furniture during its 4th of July sale. with up to 40% off. They also have buy 3 get 15% off, buy 4+ get 20% off, on swimwear. Both of these sales go through Saturday, July 7.
Have you found any brilliant July 4th sales? If so, tell us about them in the comment section below.