Way back before Kim Kardashian was a household name (okay, shortly after she made the sex tape that made her famous), and before Kanye West stole Taylor Swift's thunder at The Grammys, there was a pilot called Alligator Boots. The children's show combined star power, Jim Henson's production company, and featured loveable muppet-like creations, and was made into a 10 minute pilot for Comedy Central. The platinum recording artist Kanye teamed up with fellow Chicagoan and Grammy award winner Rhymefest to develop the 30-minute show. Kanye's original concept, supposedly conceived during the making of his Late Registration album, was to combine The Muppet Show, Chapelle's Show, and Crank Yankers, for a decidedly irreverent and naughty 30-minute comedy show.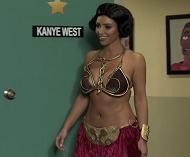 Alligator Boots had a sexual theme and sported many off color jokes involving sexual acts and kinky fetishes. Ultimately, Comedy Central decided not to go with the show.
The leaked behind-the-scenes footage shows Kim Kardashian in the infamous Princess Leia Slave Girl costume from The Return Of The Jedi film. Parents should be advised the behind-the-scenes footage contains strong language, sexual situations, simulated puppet sex and, most importantly, Kim Kardashian in that revealing costume. The pilot was produced in 2008 by Jackhole Industries which is run by Jimmy Kimmel, Adam Carolla and Daniel Kellison. The video has been removed by Viacom from You Tube due to a copyright violation.