Maria Sharapova has been picking up her wins this year by being undefeated in the third set; she is 12-0 this year. That ability to outlast her opponents served her well when she defeated 102-ranked Heather Watson in the opening round of the premier US tennis competition.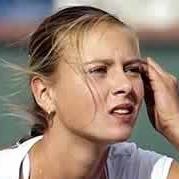 Sharapova dropped the first set to Watson 3-6. The third-seeded tennis player let go of a 4-1 lead early in the second set, but managed to rally back to a 7-5 finish. The final set had Sharapova serving out her match against her 19-year-old British competition. This was Watson's first appearance at the Flushing Meadows tournament.
The Russian had to fight hard on a court that many players said was playing slower than usual. The match pitted Sharapova's aggressive baseline game against Watson's punishing relentlessness. Many considered the Sharapova-Watson match the best of the afternoon.
Sharapova acknowledged her opponent's potential. saying "she's a great up and coming player who showed some of her best tennis today." Sharapova also commented on her own weaknesses during the match, making too many errors which the smart Watson took advantage of to pull of the first set win. In the end, Sharapova's consistency helped her get through the match. She earned a rest after her longer than expected two-hour and 34 minute long match against Watson.