Market Basket protests have entered their thirteenth day as employees loyal to ousted former CEO Arthur T. Demoulas continue to picket outside of their 71 New England stores.
Rallies demanding the reinstatement of Arthur T. Demoulas began back on July 18th, when 2,000 employees descended on Market Basket's headquarters in Tewksbury, Mass.
Eight employees were fired as a result of the massive rally, which only ignited more rallies and protests at all 71 stores over the past two weeks.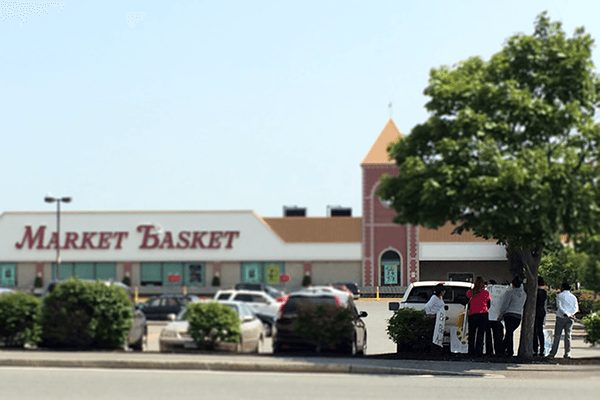 "He's a CEO that knows your name," says Peter*, a butcher who's worked at a North Shore, Mass. Market Basket for the past six years. "Even when you're not wearing your name badge, he says 'hello' to you by name. It's an amazing feeling when someone who doesn't need to know your name still knows who you are."
Peter's family has ties to Market Basket as well, where his father worked for the company for more than 30 years. Peter himself worked his way up from bag boy to his current position.
"I grew up with Market Basket," he shared. "Market Basket is our family."
Donna G., a Market Basket employee who's worked for the grocery chain at a number of stores for over 25 years, is just as loyal to Arthur T.
"We want Arthur T. back because he treated us right, because he's always got our back."
Under Demoulas's leadership, Market Basket has become a workplace known for its fair wages and generous bonus and vacation packages for its 25,000-plus workforce. Employees have been reluctant to trust the new executive leadership of Co-CEOs James Gooch and Felicia Thornton, fearing that they plan to sell the chain.
"Artie did a lot of things that a lot of other places don't do, and that's why we want him back," Peter notes. Donna adds: "The money's good and they treat you well, but the money's not everything. When Artie T. comes back, we'll go back to work."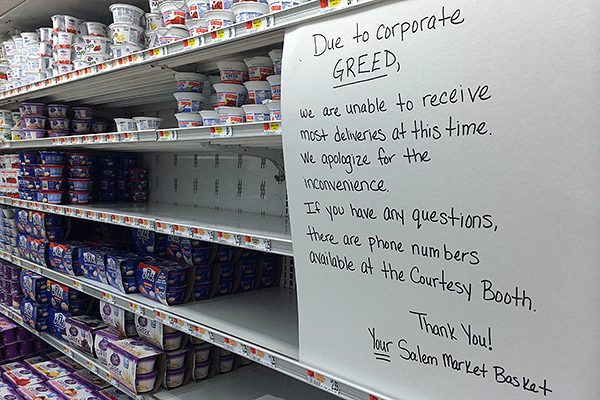 The employees rallying in front of stores and parking lots are often pulling double duty, heading right from their jobs to pick up protest signs once their shift is over, still in their work uniforms. Others come in on their days off.
"We're out here on our own time," Peter continues, standing in a poorly shaded strip of grass at the edge of the Market Basket parking lot. "We're out here because Artie would do it for us."
Peter and Donna, like many Market Basket employees, are eager to get back to work. With delivery operations at a standstill and increasingly empty shelves, there's little for them to do once they do come to work, and are often sent home.
"We want to work," Peter says. "We want to serve our customers. We want our customers to be happy."
"I'm not used to standing around," Donna adds. "The last two weeks have been hell."
With no meat to cut, Peter was sent home for the day, where he proudly wears a sign bearing the words, 'Don't Feed the Corporate Greed!"
When asked about the recent ultimatum by Co-CEOs Gooch and Thornton demanding that employees head back to work or risk losing their jobs, Peter had this to say:
"If they want to replace 25,000 people, it's on them – but they can't get rid of all of us."
Stay tuned for continuing updates as this story unfolds.
*Peter asked that his real name not be used for this story. Top photo credit: Keiko Zoll.