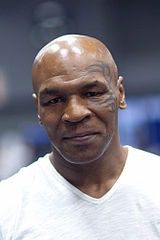 Mike Tyson will be chatting about his ex-wife, Robin Givens, during his Undisputed Truth world tour among other revelations.
The spoken word performance by the world heavyweight boxing champion is directed by Spike Lee, the Oscar nominated director and wearer of many hats in the entertainment field – film producer, writer and actor. But he isn't known for his stage-directing.
Mike Tyson has a controversial and storied past. His rise to world boxing champion, his controversial experiences with women including four marriages and a rape conviction in February 1992, and his latest resurgence in popular culture show Mike Tyson has a complex and wide-ranging history.
Robin Givens won't be the only thing he talks about.
Tyson's tour starts in Indianapolis, Indiana on February 12, winds its way across the United States and back again. He ends this spoken word exhibition in Westbury, New York on May 5th. The full list of tour dates are available on the Facebook page for the tour (www.facebook.com/MikeTysonOnTour).
No one can be sure what else Tyson will say during his tour, but given his past it's sure to be interesting if not controversial. Ticket prices start at $41.50 including a handling fee and are available from Live Nation. Prices go all the way up to a VIP ticket for $325.
Robin Givens hasn't given any statements or responses to Mike Tyson's revelations about her in a sexual tryst with Brad Pitt during their divorce proceedings. It's an interesting start to the publicity push for Mike's tour.
What things will Mike reveal during his tour? What topics will be avoided entirely? Let us know in the comments below!
Photo Credit: www.brianbirzer.com