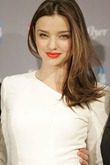 Yesterday, Miranda Kerr, model for Victoria's Secret, previewed one of the pictures from her photo shoot.
She posted the picture to her Instagram account and then tweeted it out to her followers on Twitter.
The photo (http://instagram.com/p/S8sIekEMGR/) shows Miranda in a white lace bra and panties with a matching garter belt ensemble.
Miranda's Instagram preview of the Victoria's Secret lingerie follows a successful role as the featured model in the Victoria's Secret Fashion Show 2012 which aired earlier in the week.
One of the iconic shots from that show has Miranda in a silver and white lingerie set with large white feather wings behind her (http://www.gettyimages.com/detail/news-photo/victorias-secrert-angel-miranda-kerr-walks-the-runway-news-photo/155994322).
It may seem that Miranda is circumventing the marketing machine of Victoria's Secret. but in fact she is very much a part of the billion-dollar company's social marketing efforts on Twitter, Pinterest and Facebook. That marketing has been expanded by the models themselves to include Instagram.
The Victoria's Secret Fashion Show itself is more show and marketing than it is about the company's products. A great number of the outfits worn on stage by the models are created specifically for the show and are not, in fact, available for purchase in one of the company's 1100+ stores worldwide or the 400 million catalogs it mails out annually.
The marketing has been successful though, as Victoria's Secret amassed over $6 billion in annual sales. That's quite a growth from the $6 million the company grossed annually before it was sold to Limited Stores Inc. thirty years ago.
The Instagram photo posted by Miranda of the Victoria's Secret lingerie is not shocking, but rather part of the normal marketing engine of this lingerie powerhouse.
What do you think of the photo Miranda posted? Let me know in the comments below!
photo credit: Eva Rinaldi