A new Transformer tablet from Asus is on its way.
The new tablet will be launched in the US next Sunday, April 22, according to Asus. That's the same day that the new Samsung Galaxy Tab 2 is set for its US launch. And the launch date is not the only thing they'll have in common.
Like the 10 inch version of the Galaxy Tab 2, the Asus Transformer Pad 300 will have a 10 inch (actually, 10.1 inch) touchscreen. The price is expected to be the same as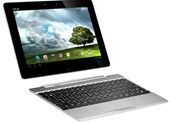 well, approximately $400.
But at that point, they begin to diverge. You can see the specs for the Galaxy Tab 2 in our CP report here.
As for the Asus Transformer Pad 300, it will feature a quad core processor with 1 GB of RAM, and 32GB of on-board storage. It will run Android 4.0 (Ice Cream Sandwich). There will be a 1.2 megapixel front camera and an 8 megapixel rear camera. It will also have a micro-HDMI port and a microSD card reader for adding external storage. Connectivity wise, it will feature 4G LTE, 3G, and Wi-Fi.
Of course, it's a Transformer. That means there's an optional keyboard dock that the tablet can be placed in, to to make it more like a small laptop. The dock is sold separately and runs about $150.
We are gathering preordering details/locations and will have that available for you here at CP later today.