Very early this morning we reported that the shipping date for new iPad pre-orders had jumped from being shipped by March 19 to being shipped in 2 to 3 weeks.
Apple says the demand for the new iPad, which launched last Wednesday, has been "off the charts." No doubt there. They also confirm that the pre-order inventory is sold out.
Yesterday we reported that 3rd generation iPads on eBay were selling for over $1000.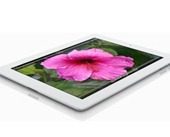 That continues to be the case as of this evening. The surprising thing may be that the prices do not appear to have escalated in the wake of the shipping date being moved back by 2 to 3 weeks. In fact, it would appear from our small sampling that eBay prices are down slightly.
Still looking only at 3rd generation iPads that have actually sold, we find a 16 GB Wi-Fi version that sold just hours ago for $609. Pre-ordered on Apple.com (with a 2 to 3 week wait), they are $499.
A 32 GB Wi-Fi version sold for $661.50 plus $30 shipping this evening. Yesterday we found examples selling for $730 and $880. Pre-orders at Apple for this model are $599.
Two recent examples of 64 GB with 4G versions included this one, which sold tonight for $1000, and this one which sold for $1099. The pre-order price Apple.com is $829 on this model.
Of course, the new iPad will go on sale at stores on March 16. According to SlashGear, lines began forming at some Apple stores days ago.