Self-styled crimefighter Phoenix Jones is now fighting a crime of his own – he's been charged with assault for allegedly pepper spraying a group of people he claims were in a street brawl. Police claim the group was dancing.
The masked crimefighter, whose identity has now been revealed through the police booking to be Benjamin Fodor, was arrested in his trademark black and gold, bullet-proof and knife resistant kevlar superhero costume still carrying two cans of pepper spray.
Phoenix Jones is a member of the Rain City Superhero Movement, a group of self-proclaimed superheroes that patrol the dark streets of Seattle at night to fight crime. In the past, Phoenix Jones has been annoyed by the lack of crime and the preponderance of public relations his team has engaged in while patrolling the streets.
Video of the incident isn't clear on whether the group of people below a downtown underpass are fighting or just dancing around and having a good time as Phoenix Jones rushed the group and started spraying. The police report that Jones has a history of injecting himself into incidents, including an increase in reports of citizens being pepper sprayed.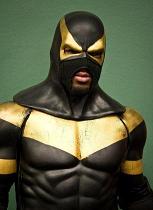 Assault charges haven't stopped Phoenix Jones – he's got a backup suit to patrol in; the police confiscated the one he was wearing the night of the arrest. His stand has reportedly inspired other groups in other cities to unite and patrol the evening streets. Although some do it more for publicity than really fighting crime, they also do good deeds, like deliver meals to the homeless and make public appearances for charities.