ThinkFlood's RedEye remote control app has moved beyond it iOS only roots and is now available on Android and PCs. The Full production release was announced today. Initially launched in 2009, RedEye was the first universal remote control solution available on the iPhone and iPod Touch devices; it controlled non-networked electronics in the home via a Wi-Fi network.
In combination with RedEye hardware, consumers can use the RedEye application to control home theater, lighting, HVAC and other equipment using common networked devices like smartphones, tablets, and PCs. Expanded now to the Android platform, the RedEye app is compatible with RedEye and RedEye Pro networked products. Smartphones or tablets running Android 1.6 up to 3.0 (Honeycomb) can use the app, which is the only remote control app currently available for the Android platform.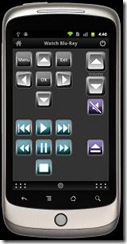 RedEye enhancements include multi-user support, control from anywhere with a networked connection, automatic controller synchronization, complete customization, and platform appropriate shortcuts including multi-touch, motion gestures and keyboard shortcuts.
The original intention of the RedEye products was to enable control of non-networked devices over the Internet, not just to turn the iPhone into a remote control. The expansion of the application to the Android platform and PCs is the next step in that vision.
RedEye hardware can be purchased online from ThinkFlood or from dealers and retailers worldwide in more than 60 countries.