Earlier today we told you that Samsung had released the US launch dates for their Galaxy Tab 2 tablets.
Now word is coming in concerning pre-ordering opportunities.
The first retailer we heard from was TigerDirect. They have the 7 inch version of the Galaxy Tab 2 available for preordering.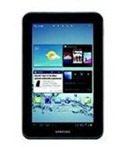 Amazon also has the 7 inch Galaxy Tab 2 available for pre-ordering and it comes with Amazon's free Super Saver Shipping.
Of the other major retailers we checked, we found the 7 inch Galaxy Tab 2 available for preordering at: Best Buy, Frys Electronics, and Office Depot.
None of the retailers listed above had the 10 inch Galaxy Tab 2 version available for preordering yet. According to Samsung, the 10 inch version will be launched in the US on March 13.
The pricing was the same across all the retailers listed: $249.99.
Along with Amazon, Best Buy offered free standard shipping. Fry's added just over $10 for ground shipping to our US location. TigerDirect added about $7.
Office Depot does not have a preordering order form on their website. They provide a phone number for ordering, and promise an 'exclusive phone only accessory offer.' No information on shipping cost is currently provided on their site.
Both the 7 inch and the 10 inch Samsung Galaxy Tab 2 tablets feature a 1 GHz dual-core processor with 1 GB of RAM. They run Android 4.0 (Ice Cream Sandwich), have dual cameras, and 8 GB of internal storage. There is a microSD slot for external storage, and an IR port so that the device can be used as a universal remote control.