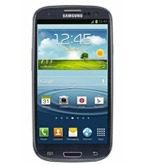 Of the five US carriers that will carry the Samsung Galaxy S3, T-Mobile is the only one that doesn't have any preordering information on their website as of early Tuesday morning.
On Monday Samsung announced that the highly anticipated Samsung Galaxy S3 smartphone would be coming to the US this month. No single US carrier has an exclusive on the phone – it will be available on five different ones: AT&T, Sprint, Verizon, T-Mobile and US Cellular. Samsung said that the individual carriers would announce when the Galaxy S3 would become available on each.
Four of the five got right down to business. Sprint jumped in and began taking preorders right away. So did AT&T. Verizon announced through their site that they would begin taking preorders at 7am this morning.
The fourth, US Cellular, announced through their site that they would start taking preorders on June 12. A week later than Sprint, AT&T, and Verizon. But heck, if the phone sells out on those networks, US Cellular may be in a prime spot to pick up the stragglers.
Surprisingly, T-Mobile provides no information on their site about preordering the Galaxy S3 at this time. They do have a Galaxy S3 page set up. It indicates that T-Mobile plans to launch the smartphone on their network on June 21. But no preorder form, no preordering date. They do provide a form that shoppers can use to sign up for alerts, but that's it.
We'll update you when T-Mobile does provide the details. Be sure to stay tuned to our Samsung Galaxy S3 page for the latest developments.