It won't be a surprise to our regular readers, as so much of our shopping related coverage has been about tablets over the past year, but according to tech research firm Gartner, Inc, tablet sales will just about double this year compared to last.
They predict that there will be a total of 118.9 million tablets sold during the year 2012. That's a 98% increase from 2011, which saw sales of about 60 million tablets.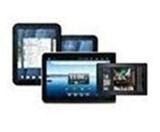 Here's another detail of which our regular readers will already be aware of. When it comes to tablets, Apple is the dominant player. Gartner is forecasting that Apple will account for 61.4% of worldwide sales to end-users during 2012. Android-based tablets are forecast have a 31.9% share of sales worldwide. Gartner analysts say the main problem slowing down Android tablet sales is the lack of Android apps designed specifically for tablets. Many Android apps, while they can run on a tablet, were designed for smaller smart phone screens.
Gartner is also predicting that Windows will slowly work its way into the tablet market. They are predicting that Windows tablets will have a 4.1% share of the tablet market this year, but that their share will grow to almost 12% by the end 2016. Windows 8, which is designed to be tablet friendly, is due out later this year.
Gartner sees nothing but trouble ahead for Research In Motion (RIM). RIM is the company behind the famous BlackBerry line of smart phones. They launched a BlackBerry tablet last year called the PlayBook, but they've had a miserable time trying to move it off store shelves. Gartner's research suggests that RIM's woes will continue. They predict that there will only be about a half a million PlayBooks sold this year, perhaps slightly more during 2013, but with the bottom dropping out by 2016.