The dream makers at Parker Brothers Choppers have punched out an updated Tron Lightcycle that includes an electric motor to whisper like the real thing on the silver screen. The team originally devised a Lightcycle to coincide with the release of the Tron: Legacy movie, but it included a gas engine – functional, but not quite the same effect. Going back to the drawing board, they came up with a version with a 96-volt electric, a revamped body design and those distinct lights on the sides of the bike just like the Lightcycle from the movie.
Building a real-life Lightcycle created some design challenges – the real thing requires a rider with a wide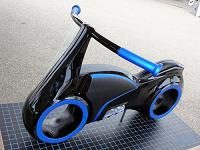 stance to operate it and it's not exactly like other motorcycles, requiring some modifications for the turning radius, balance, weight and clearance to make it street legal.
It's a sweet ride, but would it be complete without a Tron bodysuit? Check out the do-it-yourself details from Syuzi at www.fashioningtech.com/profiles/blogs/tron-quorra-costume. She designed, manufactured and wore the Tron-inspired bodysuit costume last year for Halloween.
To include the kids in the Tron fun, Trek Bicycle designer Ryan Callahan showed off this Tron-inspired scooter at TrekWorld 2012 in August – unfortunately, unlike the Tron Lightcycle above, the scooter is only a prototype and not in production.
http://www.youtube.com/watch?v=irkxIpNBJJU
---
Have A Question? Ask Jessica!