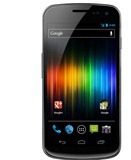 As of today, Samsung's Galaxy Nexus smartphone is available through the Google Play store for $399, unlocked.
Being unlocked, the smart phone is not tied to a carrier contract. It can be used with either an AT&T or a T-Mobile SIM card on a contract or prepaid plan. The Galaxy Nexus is also available from Sprint or Verizon on contract.
Through either Sprint or Verizon, the Galaxy Nexus costs $199.99 with a new two-year Sprint or Verizon contract.
The smartphone is available at WireFly.com for $49.99 with a two-year Verizon contract, or $149.99 with a two-year Sprint contract. LetsTalk has it for $149.99 with a two-year contract from either carrier.
The Galaxy Nexus runs on Android 4.0 (Ice Cream Sandwich). It has a 4.65″ HD Super AMOLED touchscreen display. It's powered by a 1.2 GHz dual-core processor and 1 GB RAM. It includes a 5 megapixel autofocus rear facing camera and a 1.3 megapixel front camera, two microphones, a gyroscope, an accelerometer, a compass, a proximity/light sensor, a barometer and more. The smartphone was first launched in the US by Verizon, back in December.