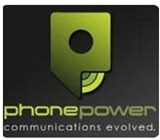 No customer information was compromised during the cyber attack launched against Phone Power on Wednesday, according to a spokesman for company.
Jim Murphy told Consumer Press that the attack, which crippled Phone Power's VOIP phone service and website, was a Distributed Denial Of Service (DDOS) attack. "This is not the type of cyber attack that is looking to compromise information.  It's merely a malicious attack to bring down a company's web servers and take you 'offline'," said Murphy when we asked about any risk to customer data.
The attack began at 7:45 AM Pacific time. Phone Power customers quickly lost the use of their phones after the attack began. CP reported on the outage live here.
Phone service was restored approximately 7 hours later. According to Murphy, Phone Power's website was back up by 11 PM Wednesday, however, in our testing we were unable to reach it until about 7 AM (PT) Thursday morning.
"The FBI Cyber Crime Task Force was extremely responsive once we reported it, and we are assisting them in gathering evidence," said Murphy. He also stated that the company is adding several layers of security measures to prevent similar occurrences in the future.
According to Murphy, the company was embarrassed by the incident, and will provide a full explanation to customers within the next two days.
Yesterday we reported on Phone Power's interest in receiving information from customers on how the outage affected them personally. Full details available here.