RadioShack began taking pre-orders for the new iPad last week, just a day after the tablet was officially revealed to the public.
However, it's not like a normal 'pre-ordering' process, and it's not available online.
RadioShack's iPad pre-ordering procedure might be better thought of as a reservation system. Shoppers can go to a RadioShack brick-and-mortar store and pre-order a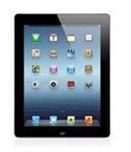 new iPad, which will require the purchase of a $50 gift card. The gift card can then be used for the purchase of the iPad.
Best Buy is using a similar procedure for shoppers wanting to pre-order the HTC One X smartphone, but, surprisingly, has not announced a pre-order process for the new iPad.
RadioShack's iPad pre-order offer ends at closing time on March 12, according to the company. That might not matter much – on various iPad forums, shoppers are already saying that their local RadioShacks are sold out of pre-order inventory.
It appears that Apple's pre-order inventory is sold out as well. When the iPad was first revealed on Wednesday, pre-orders through Apple were set to be delivered by the iPad launch date, March 16. Now Apple says current pre-orders are expected to ship on March 19.