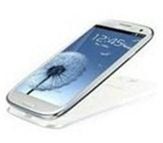 The big day is here (sort of). The Samsung Galaxy S3 hits the US (kind of). What is going on?
The very highly anticipated Samsung Galaxy S3 deserved a big splash on its launch here in the US. But what should have been a big event is somewhat muddled. The smartphone is set to debut on four US wireless networks, AT&T, Sprint, T-Mobile, and Verizon, this week. US Cellular says they will have the phone available sometime next month.
Samsung announced the Galaxy S3 would be coming to US last month. AT&T, Sprint, and Verizon all quickly jumped in and started taking pre-orders orders, saying they would have the phone available between June 18 through June 21.
Between Samsung's announcement and the US debut of the phone though, Apple tried to try to stop launch on the grounds that the S3 included some of their patented technology.
Apple failed to stop the launch. So we've been eagerly counting down to the big day. And now that it's upon us… Well, a check of AT&T.com finds the carrier pushing the HTC One X on the first flipcard on their homepage. The third flip finally gets us to the Samsung Galaxy S3, and a click on the link brings us to a pre-order form with an 'on or about' June 28 shipping date.
Let's see if we have any better luck on Sprint.com. Nothing on their homepage, we have to search for it. Ah, here it is. Sold out. Not just sold out, but pre-ordering is closed as well.
Verizon? Well, here it is on their home page. Heading down the pre-order path, we find that they are taking pre-orders. The ship-by date is July 10.
T-Mobile… this is interesting. We reported earlier that T-Mobile had not announced pre-ordering when the others did. They did, and still do, provide a page that shoppers can use to sign up for an email reminder when it becomes available. Not only that, but they do list an 'available on' date, tomorrow, June 21. This may be where the rush is. We have an email in to T-Mobile to confirm the details and whether it will be in stores or just online. We will provide an update when we hear back.
US Cellular is taking pre-orders, but the only shipping date they will give out is 'four to five' weeks.
So that's the status of the Samsung Galaxy S3 kind-of launch. An array of delayed-shipping or closed pre-orders and one carrier that might be sitting on a stash of 'em. Could have been an exciting launch if the date had been clear and the inventories had been flush.
Have you pre-ordered a Galaxy S3? Has it been delivered yet? Tell us about it! If you haven't pre-ordered yet, will you be? Let us know in the comments below.